Introduction to the History of Cigarette Cards.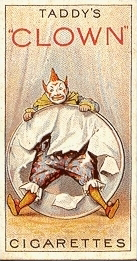 If you are new to my pages I hope you've started here, especially if you know nothing about cigarette cards as this page is designed to introduce you and hopefully create some interest in the hobby of Cartophily (Cigarette Card Collecting)!
In America during the 1880's cards known as 'stiffeners' were inserted into paper packets of cigarettes to reinforce the packaging and so to protect the contents, someone (believed to be an American journalist) had the idea of advertising by printing a picture and descriptive details on them. An early set of cards issued by Taddy & Co. titled Clowns and Circus Artistes is one of the most expensive sets, valued at £650………per card!! Now you know why the Clown, which is one of the cards in this rare set of 20 is at the top of this page. Although cards packed for the British market were marketed by 1885, it took some 2 years later for a British manufacturer to issue a card.
W.D.& H.O.Wills were the pioneers in advertising and promoting their product and towards the end of the 1880's issued small tickets with wording on (which I hope to include soon), followed by illustrations of some packings and miniature copies of famous showcards. Their debut is believed to be around 1887.
One of the early illustrative cards was issued by Three Castles cigarettes, depicting a house maid carrying a packet on a tray. The original design was an adaptation of a New York play bill showing the actress Sally Rose in "Morning Dew".
Wills issued their first general interest set in 1895 titled "Ships & Soldiers". At this time no pictorial mass communication was available to the public, most of whom could not read. The newspapers were full of poor print, adverts and parliamentary reports. No wonder these beautiful, well produced colour cards were (and still are!) in heavy demand.
The next Wills sets included Cricketers (1896) & Kings & Queens (1897), which was reissued with five additional cards following the death of Queen Victoria in 1902. The Kings & Queens set was the first to have short notes on the back referring to the subject illustrated.
Other early sets include John Player & Sons issuing two sets of actresses and several military sets. Ogden's issued a series of Guinea Gold & Tabs cards, which appeared from 1894 to 1907 covering events, personalities and influences of that time. Thousands of these were produced on subjects like Boer War & Boxer Rebellion personalities, weapons, transport, actresses, racehorses, sportsmen and many more, with varying designs.
Cigarette Cards often depicted humour like the set titled Double Meaning Sayings issued in 1898 by Wills. Showing illustrations with headings such as "A costly tie" (Wedding ceremony), "A good draughtsman" (barman pulling a pint) and "His honour at steak" (judge enjoying a meal). Not the funniest things ever but fine examples of Victorian humour.
From about 1901 Cigarette Cards really caught on and thousands of different sets were issued by over 300 tobacco companies, Wills issued over 175 different sets alone. It is believed there were over 11,000 cards issued depicting the subject of cricket.
Many sets are still regarded as miniature reference books with illustrations and texts absolutely correct. Children of the time used to stand outside tobacconists asking smokers for their 'fag' cards, they were then kept to make up sets and sometimes try and win more by playing games with the cards and hopefully winning them. Unfortunately most cards were damaged when played with, making them now worthless as condition to collectors of today is quite important.
Some sets are more valuable than others and among these are those printed but withheld or withdrawn for some reason. In June 1915, the Centenary of the Battle of Waterloo, Wills decided to print a set to commemorate the fact. But because the French were our allies in World War I, they were never issued. A few sets escaped being destroyed and are now extremely rare. Another similar thing happened to another Wills set "Musical Celebrities" (1914). This set had eight cards depicting German or Austrian artists which were replaced by allied celebrities. A set titled "The Life of King Edward VIII" was cancelled in the year of his abdication.
In 1917 a shortage of materials due to the First World War stopped the production of cards and they did not reappear until 1922 with the Wills set "Do You Know" which was so popular a further three sets were issued over the next eleven years covering the same subject.
Sets followed covering wild animals, aviation, motor cars, motor cycles, military, railways and many fields of sport. Giving you the collector much to chose from, if there is a particular subject you are interested in, chances are you can get Cigarette Cards on it! If you want to know what is available on any subject I will try and help just e-mail me.
In early 1940 production of cards ceased once again because of wartime restrictions, and any hope of a return to the era of Cigarette Cards were dashed by the high cost of materials after the war. Some cards have been produced since, by Imperial Tobacco cigar brands, and Trade Cards are still packed with tea (Brooke Bond), cereals, sweets and other products, which are also collectible but obviously not so rare, as they are so new.
Other cards available included reproduction cards which are usually copies of expensive sets which people can't afford to buy and are usually used for framing purposes. People should not be concerned when buying cards if they are 'repro' or not as ALL repro sets have written text, usually on the reverse at the bottom to let you know they are copies. Another type of card is produced today which I refer to as Modern Cards which are mass produced by companies such as Golden Era and like 'repro' cards are mainly used for framing.
So why not get in touch, let me know what subject you are interested in and I am sure I can help you. If you are already a collector feel free to contact me for a chat or if you are after any odds or sets maybe I can be of some help.